The Ninth Wave... I love this painting. I saw it every morning on my Grandma`s kitchen. It was food for my dreams. I will never forget those days. The painting (just a copy) disappeared when my Grandma died... I never saw it until today, on this site: Arts-oilpaintings.com where you can order a copy.
Is created by Ivan Aivazovsky, his biography and paintings are here.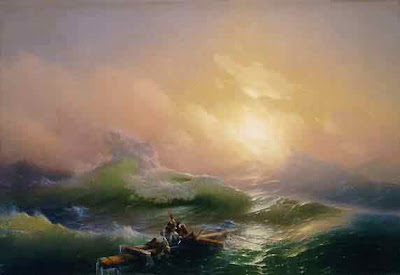 Al noualea val... ador acest tablou. Il admiram in fiecare dimineata in bucataria bunicii in timp ce-mi mancam micul dejun. A fost hrana pentru visele mele. Nu voi uita niciodata acele zile. A disparut odata cu moartea bunicii mele. Nu l-am mai vazut pana astazi, cand l-am zarit pe situl de mai sus (adresa din primul paragraf in engleza) .