... with my photo camera. This wonderful butterfly is a SHE. How did I know? By her behaviour. If you want the prove, keep reading.
Un fluture indragostit de camera foto. Acest fluture superb este de fapt, o EA. De unde stiu? Dupa comportament. Daca vreti dovada, cititi mai departe.
She fly on my wife`s shoulder,
De pe frunza, zboara pe umarul sotiei,
spread the wings,
desface aripile,
and turned her back to my photo camera :P.
si isi intoarce coada la obiectivul fotografic, lasandu-ma sa ma apropii.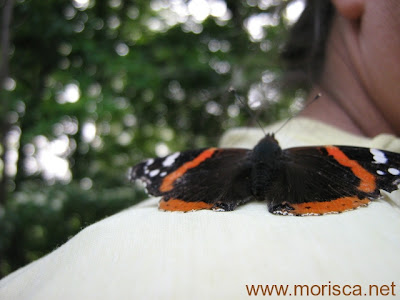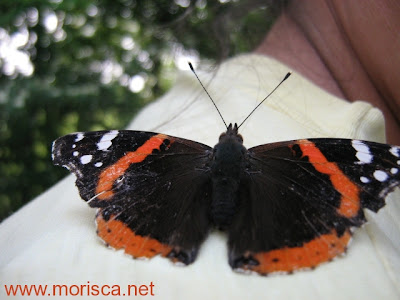 Note: All photos was made with macro function so, the lens was at few centimeters distance from butterfly. I think her `husband` was killed by a bird (a joke, they do not make pairs) or are too many females this year. Judging by the status of her wings, is already late for her... maybe she choosed a wrong area for meet.
Toate pozele sunt facute cu functia macro, asa ca lentilele erau la doar cativa centimetri distanta. Cred ca anul acesta au fost mai multe femele decat masculi. Judecand dupa aripile deja zdrentuite si unele zone lipsite de acea pudra, este posibil ca pentru acest fluture-femela sa fie cam tarziu... poate nu a ales bine zona de imperechere. In mod normal, cand zareste miscare in jur, emite cateva semnale rapide. Desface si inchide rapid aripile, dezvaluind zona portocalie, ca un mic LED clipitor. Pentru a zbura imediat in caz de pericol, are nevoie ca aripile sa fie inchise (ridicate).